Co-lean
USER RESEARCH + PROTOTYPING
FALL 2018, UCSD
TEAM: JULIA NGUYEN, KATHERINE CHEN, YUJI HEID, JUSTIN LE, ANA SELVARAJ, HYEA-YON HUANG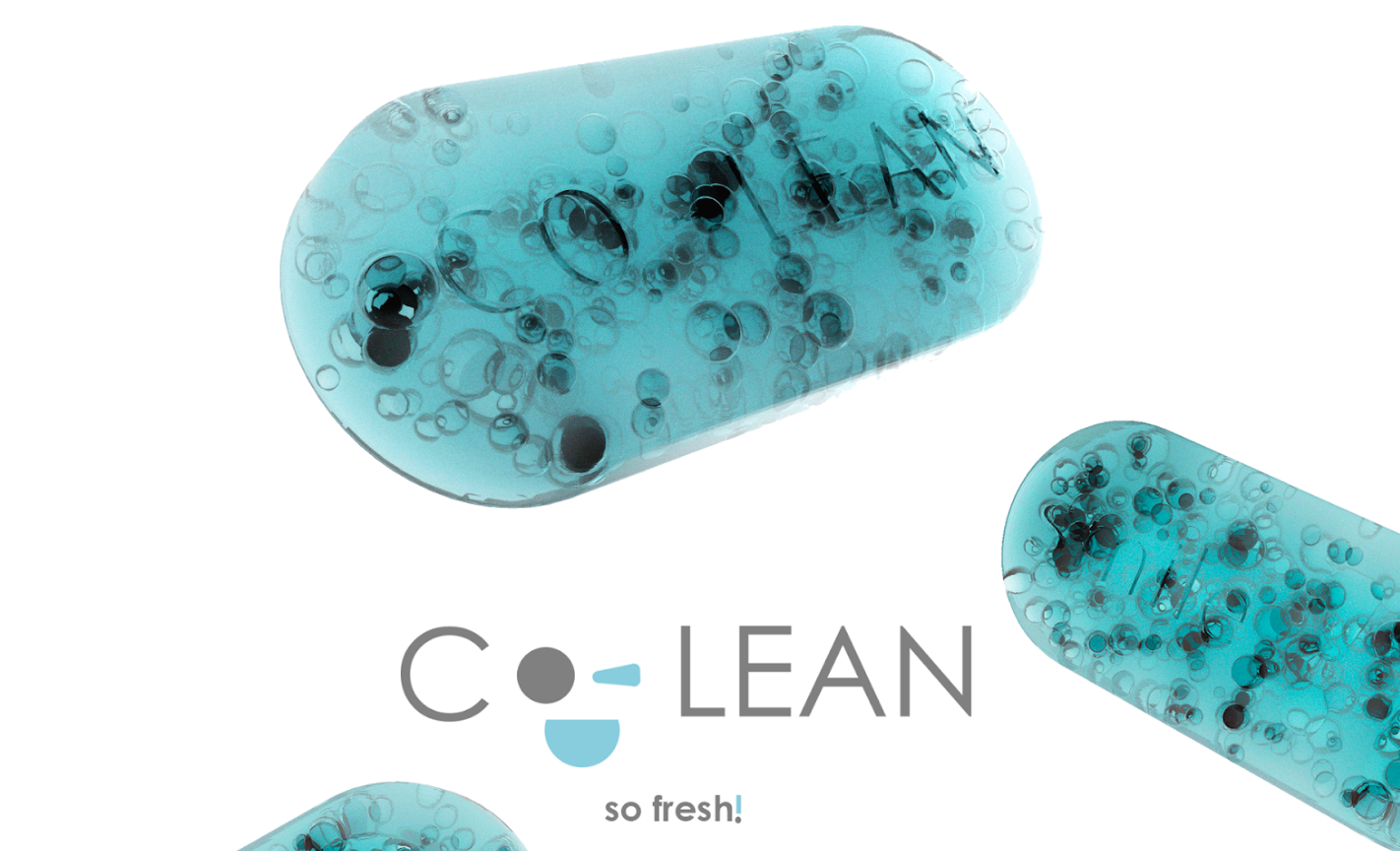 ABOUT
In Design 1, my team worked on redesigning the traditional toothpaste tube. For this project, we focused on rethinking how toothpaste is dispensed, in order to improve the user's experience while keeping ecological and hygienic issues in mind.

MY ROLE
I oversaw all roles for the redesign project. I created questions for user research, assisted in data collection and analysis, and worked alongside Katherine and Yuji to create prototypes.
USER RESEARCH
To understand users' frequent errors, insights, and expectations, my team interviewed a total of 19 subjects. We divided our interviews into three parts: a pre-activity inquiry section, a hands-on activity demonstration section, and a post-activity inquiry section.

ANALYSIS + FINDINGS
From our data, we were able to narrow down the four main problems users faced
   1. Errors: Squeezing out an incorrect portion of toothpaste (pea-sized is the dentist recommended amount)       (11/19, 58% of test subjects)
   2. Hygienic issues: Toothpaste drying up and accumulating around the tip, preventing the cap from being  .       screwed on correctly and reducing the hygienic factor (12/19, 63%)
   3. Efficiency issues: Facing difficulty with squeezing out remaining portions of paste from an almost empty       tube (15/19, 79%)
   4. Environmental issues: Voicing concerns relating to the environmental waste of the tube packaging  .       (plastic film, cardboard box, plastic tube, tip, and cap), along with the wasted toothpaste remaining  .       inside the tube.

EARLY IDEATIONS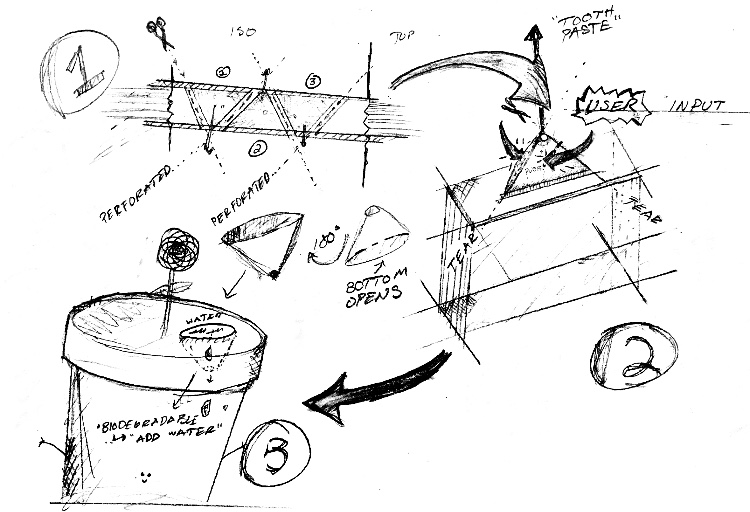 Sketch 1: First sketches for individual toothpaste pods.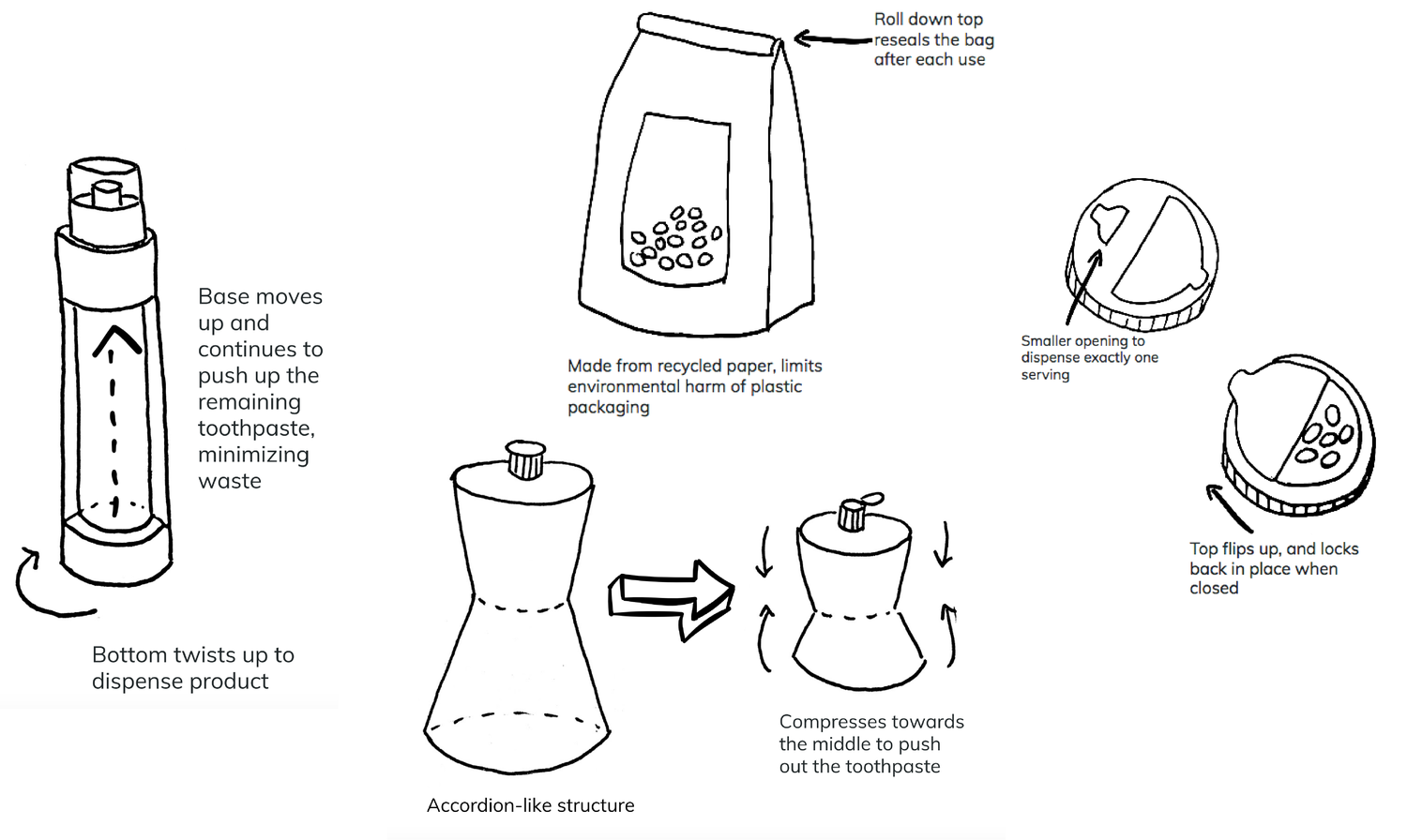 Sketch 2: Sketches of possible packaging prototypes for the pods allowed us to see the benefits and pain  .           points of each idea.

EXPLORING ITERATIONS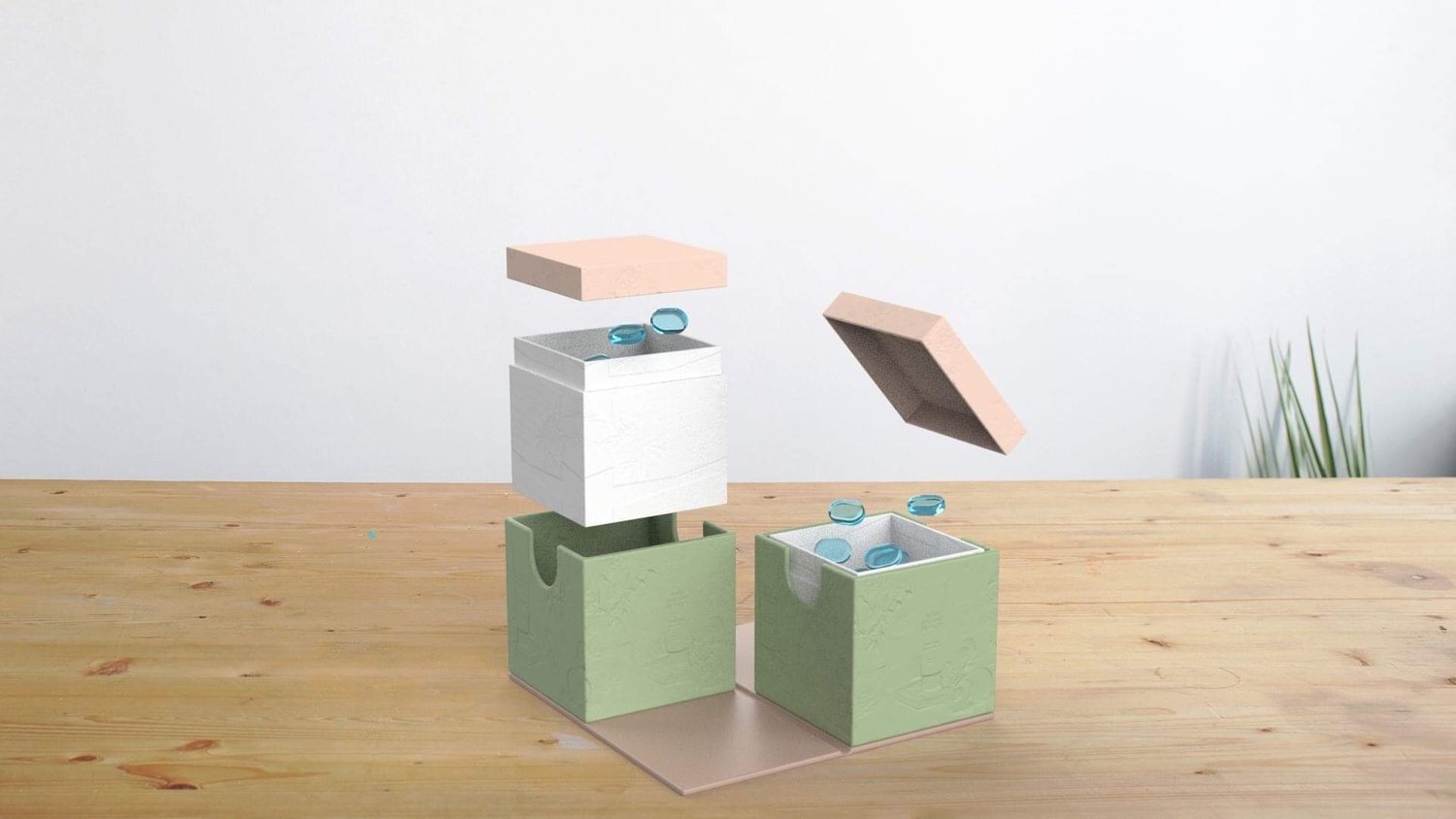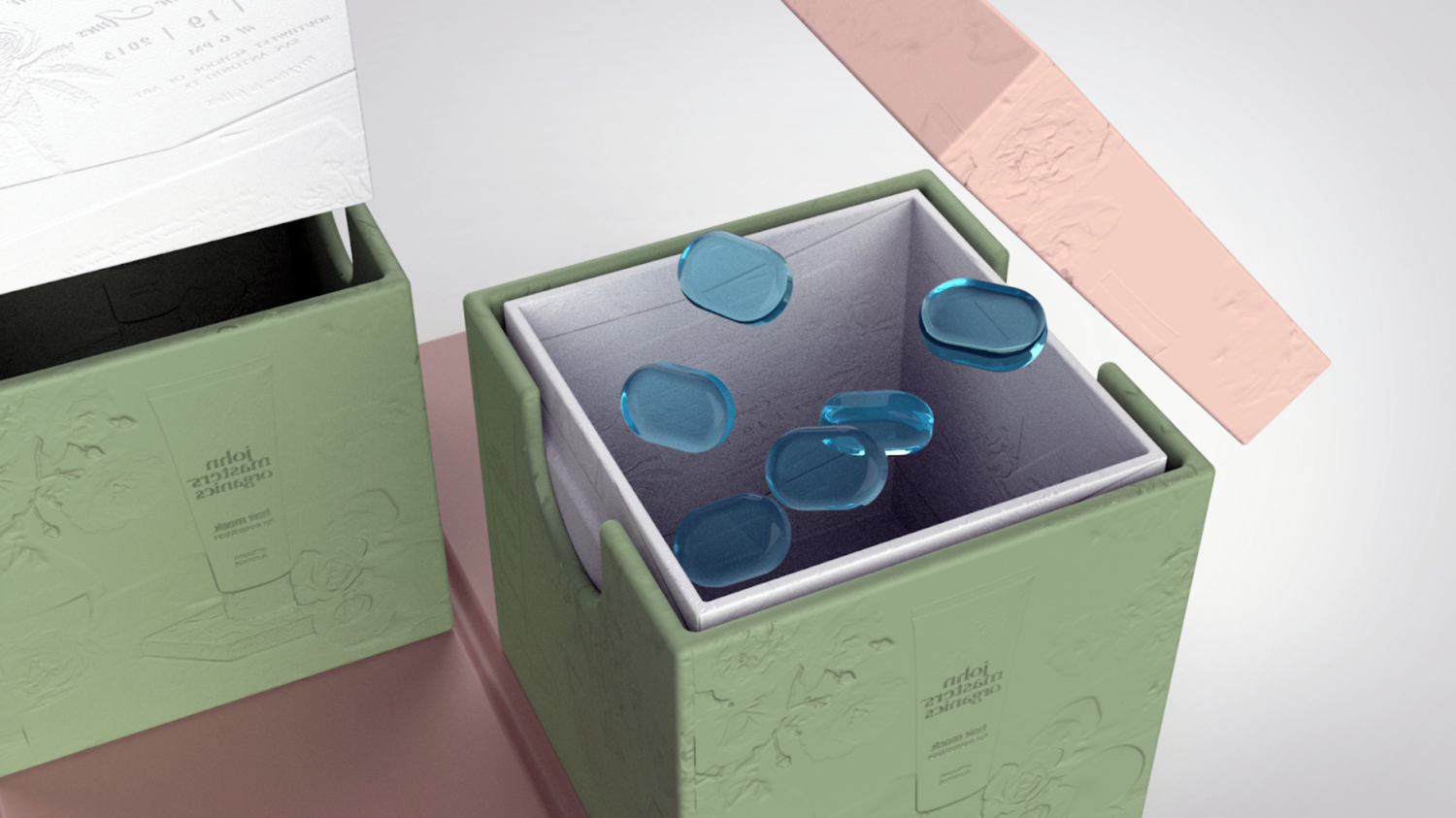 My team initially redesigned packaging to mitigate problems with errors, hygiene, and efficiency, however, quickly realized that these prototypes still included packaging waste thus did not alleviate environmental concerns. We decided to move beyond redesigning the dispenser and reimagined the toothpaste product itself. Inspired by the single serving-size design of Tide Pods and liquid gel pills, we ideated Co-Lean: a mechanism that dispenses single serving-sized toothpaste tablets.

FINAL PROTOTYPE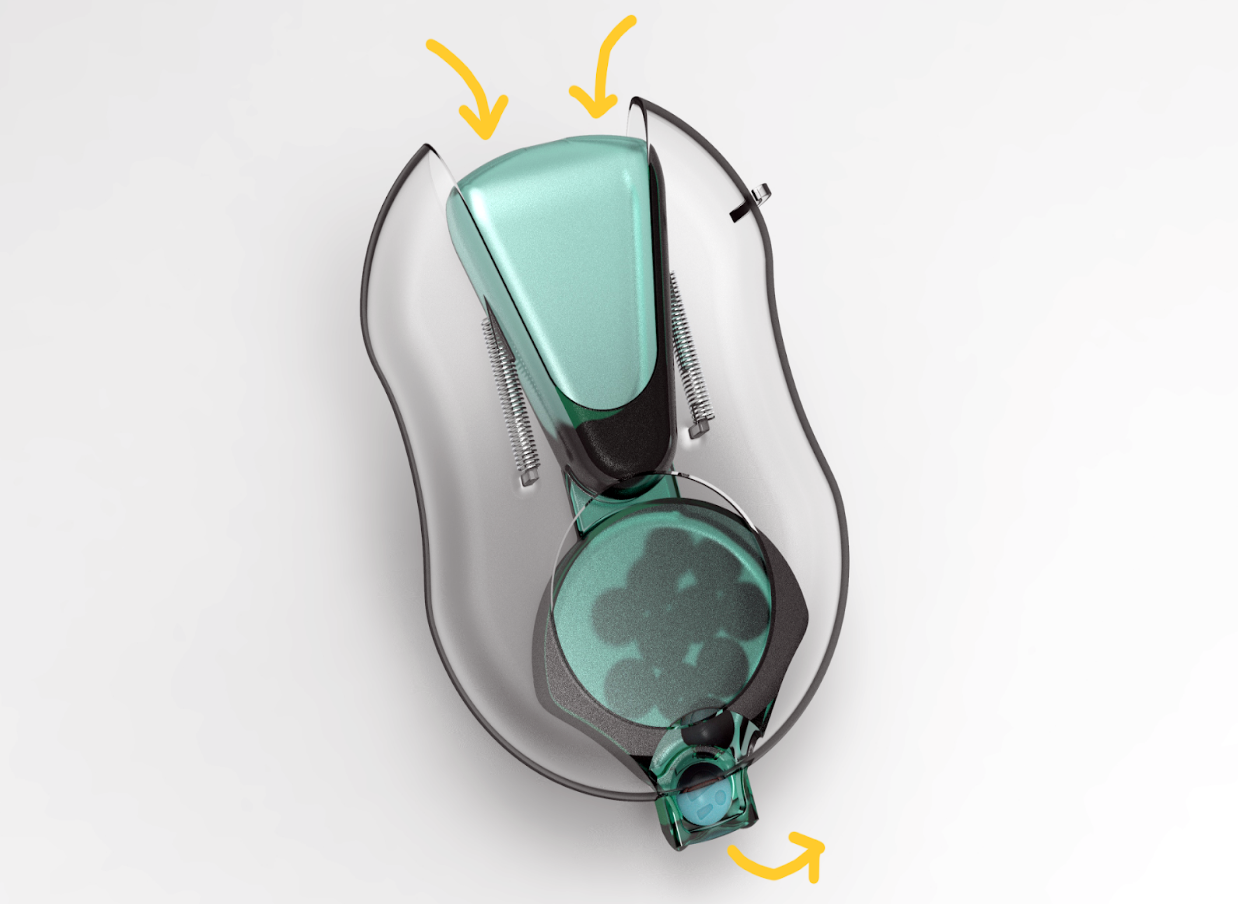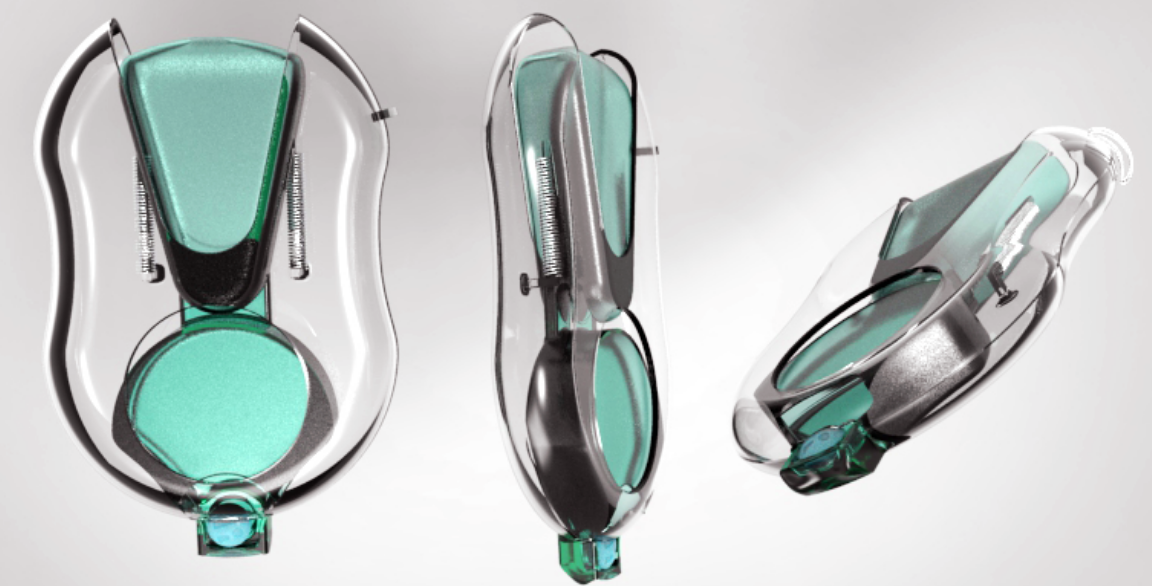 TOOTHPASTE TABLETS
Our radical re-imagination of the toothpaste itself resulted in single serving-sized toothpaste tablets. Users simply need to place the tablet in their mouth, and allow for their saliva to activate the paste. This design would eliminate the problems of using more paste than needed, as well as inaccessible toothpaste at the end of the traditional tube.

MECHANICAL DISPENSER
The dispenser includes a compartment that holds the tablets and dispenses exactly one tablet when the button is pressed. This instant feedback signifies to users that this is the correct amount they need when brushing their teeth thus addressing the errors with dispensing from a traditional tube. The remaining tablets in the dispenser are stored in a plastic material which maintains the integrity of the product. This mechanism also eliminates the issue of paste at the end of the tube since all the tablets will be dispensed.

REUSABILITY
Although this dispenser is made out of plastic, it will generate less waste overtime because it is refillable.

COLORS
We chose a blue color palette to reflect the feeling of cleanliness associated with toothpaste.

NEXT STEPS
Our next steps would be to create a physical prototype and test it with a larger sample size. We aim to limit as much excess packaging, following the principles of Zero Waste to promote sustainability. Furthermore, we would finalize the materials both the dispenser and toothpaste tablet. The material of the dispenser will be durable enough to last years and the material of the tablet will dissolve with contact to saliva or water. Thank you to my project partners Katherine, Ana, Cindy, Justin, and Yuji for iterating through the design process with me.